Is your calendar an empty wasteland until the weather gets nicer in (hopefully!) May? These next few months can be a drag, which is why we have an indoor golf league starting on January 16th for seven weeks. It's the perfect way to keep up with your form and have some fun with friends every week. It doesn't matter if you're a pro or just like to play casually, a winter golf league will help during the off season.
There are 2-person teams (buddy up!) and you can pick the night of the week you'd prefer to play, Monday – Thursday at 7:30 PM for ultimate flexibility. Each week will be a different 9-hole course with the TrackMan golf simulator. You will also get (3) 18-hole practice rounds to establish your handicap.
In terms of scoring, each week the low team will receive 12 points, 2nd place team will receive 11 points, down to last place which will receive 1 point. In the event of a tie, points for those 2 places will be split. For example, if there is a tie for 1st, each team will receive 11.5 points.
We send an email to the League participants every week with current standings and information about the course and format for the following week. You're always in the know for full advantage.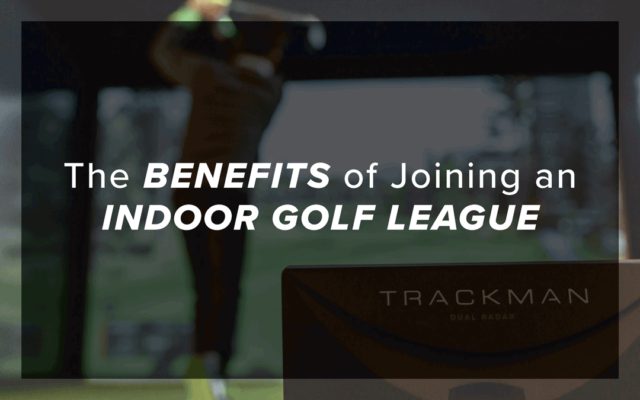 Will a winter golf league help my game?
Indoor golf training is the perfect continuation of your summer time on the green. TrackMan's two radars give you all the information you need to improve your game. One radar system tracks the club before, during and after impact while the other tracks the full ball flight, from launch to landing. Stay consistent or level-up. You'll be having fun and getting ready for Spring no matter what.
Will I get variety each week?
The first six weeks will consist of rounds of best ball, scramble and alternate shot. The playoffs week will be best ball. There will be prizes for 1st, 2nd, and 3rd place (who doesn't like prizes?) so this is more than just another round of golf.
Will this league turn me into Arnold Palmer?
Our indoor golf training center can do a LOT of things, from improving your handicap to increasing your flexibility, but sadly we can't make any Arnold Palmer guarantees. We encourage you to try, though!